Evaluación ecográfica del compromiso de entesis en pacientes con espondiloartritis
Palabras clave:
ecografía, espondiloartritis
Resumen
Introducción: La entesis es el órgano diana de la inflamación en las espondiloartritis (EspA) siendo clave en su fisiopatogenia. La ecografía está emergiendo como la técnica de preferencia para la detección de entesitis. Se realizó este estudio a fin de describir las ca- racterísticas ecográficas del compromiso de las entesis en pacientes con espondiloartritis.
Materiales y métodos: Se evaluaron 20 pacientes con diagnóstico de EspA que acudieron al Hospital de Clínicas. Se investigaron variables clínicas y demográficas y posteriormente exploración ecográfica en 12 sitios de entesis hallándose los índices GUESS (Glasgow Enthesitis Scoring System) y MASEI (Madrid Sonographic Enthesitis Index) y posterior cor- relación de las variables ecográficas con las clínicas.
Resultados: Los promedios de los índices BASDAI, ASDAS y BASFI fueron 4,05, 2,35, 3,56 respectivamente. De las 240 entesis evaluadas 35 (14,5%) presentaban dolor a la evaluación clínica. Se halló engrosamiento de tendón o ligamento en 42,5% de las entesis, calcificaciones en 24,1%, erosiones en 10,8%, y señal PD en 1,25%.
El índice GUESS medio fue de 8,45 y el MASEI medio 15,2. No se encontró relación entre índices ecográficos e índices de BASDAI, ASDAS o BASFI.
No se halló diferencia significativa entre los Índices GUESS y MASEI con los diferentes tipos de EspA, edad, tiempo de evolución ni tipo de tratamiento. El sexo masculino y el compromiso axial se asociaron a mayor índice GUESS y MASEI.
Conclusión: Se encontró una pobre correlación entre la presencia de síntomas de entesitis y los hallazgos ecográficos. Los índices ecográficos MASEI y GUESS, no se correlacio- naron con los índices de actividad de la enfermedad. Los valores de los índices MASEI y GUESS se relacionaron con el sexo masculino y el compromiso predominantemente axial en pacientes con EspA. Se halló una muy baja afectación inflamatoria aguda mediante detección de señal power doppler.
Descargas
La descarga de datos todavía no está disponible.
Citas
(1) Bakland G, Nossent HC. Epidemiology of spondyloarthritis: A re view. Curr Rheumatol Rep. 2013;15(9):1–7.
(2) Terslev L, Naredo E, Iagnocco A, Balint PV, Wakefield RJ, Aegerter P, et al. Outcome Measures in Rheumatology Ultrasound Task Force. Defining enthesitis in spondyloarthritis by ultrasound: results of a Delphi process and of a reliability reading exercise. Arthritis Care Res (Hoboken). 2014 May;66(5):741-8. doi: 10.1002/acr.22191.
(3) Mata Arnaiz MC, de Miguel Mendieta E. Utilidad de la ecografía en la evaluación de las entesis periféricas en las espondiloartritis. Reumatol Clin. 2014;10(2):113–9.
(4) Zhang H, Liang J, Qiu J, Wang F, Sun L. Ultrasonographic evalua- tion of enthesitis in patients with ankylosing spondylitis. J Biomed Res. 2017;31(2):162–9.
(5) Aguila Maldonado R, Ruta S, Valuntas ML, García M. Ultrasono- graphy assessment of heel entheses in patients with spondylo- arthritis: a comparative study with magnetic resonance imaging and conventional radiography. Clin Rheumatol. 2017;36(8):1811–7.
(6) Groves C, Chandramohan M, Chew NS, Aslam T, Helliwell PS. Clinical Examination, Ultrasound and MRI Imaging of The Painful Elbow in Psoriatic Arthritis and Rheumatoid Arthritis: Which is Better, Ultrasound or MR, for Imaging Enthesitis? Rheumatol Ther. 2017;4(1):71–84.
(7) Eder L, Barzilai M, Peled N, Gladman DD, Zisman D. The use of ultrasound for the assessment of enthesitis in patients with spondy- loarthritis. Clin Radiol [Internet]. 2013;68(3):219–23. Available from: http://dx.doi.org/10.1016/j.crad.2012.07.018
(8) Sakellariou G, Iagnocco A, Delle Sedie A, Riente L, Filippucci E, Montecucco C. Ultrasonographic evaluation of entheses in patients with spondyloarthritis: A systematic literature review. Clin Exp Rheu- matol. 2014;32(6):969–78.
(9) Filippucci E, Zehra Aydin S, Karadag O, Salaffi F, Gutierrez M, Direskeneli H, et al. Reliability of high-resolution ultrasonography in the assessment of Achilles tendon enthesopathy in seronegative spondyloarthropathies. Ann Rheum Dis. 2009;68(12):1850–5.
(10) Poulain C, D'Agostino MA, Thibault S, Daures JP, Ferkal S, Le Corvoisier P, et al. Can power Doppler ultrasound of the entheses help in classifying recent axial spondyloarthritis? Data from the DESIR cohort. RMD Open. 2018;4(2):1–9.
(11) Balint P V., Kane D, Wilson H, McInnes IB, Sturrock RD. Ultrasono- graphy of entheseal insertions in the lower limb in spondyloarthro- pathy. Ann Rheum Dis. 2002;61(10):905–10.
(12) D'Agostino MA, Said-Nahal R, Hacquard-Bouder C, Brasseur JL, Dougados M, Breban M. Assessment of peripheral enthesitis in the spondylarthropathies by ultrasonography combined with power Doppler: A cross-sectional study. Arthritis Rheum. 2003;48(2): 523–33.
(13) De Miguel E, Cobo T, Muñoz-Femández S, Naredo E, Usón J, Acebes JC, et al. Validity of enthesis ultrasound assessment in spondyloarthropathy. Ann Rheum Dis. 2009;68(2):169–74.
(14) Macchioni P, Salvarani C, Possemato N, Gutierrez M, Grassi W, Gasparini S, et al. Ultrasonographic and Clinical Assessment of Peripheral Enthesitis in Patients with Psoriatic Arthritis, Psoriasis, and Fibromyalgia Syndrome: The ULISSE Study. J Rheumatol. 2019;46(8):904–11.
(15) Kristensen S, Christensen JH, Schmidt EB, Olesen JL, Johansen MB, Arvesen KB, et al. Assessment of enthesitis in patients with psoriatic arthritis using clinical examination and ultrasound. Muscles Ligaments Tendons J. 2016;6(2):241–7.
(16) Ruyssen-Witrand A, Jamard B, Cantagrel A, Nigon D, Loeuille D, Degboe Y, et al. Relationships between ultrasound enthesitis, disease activity and axial radiographic structural changes in patients with early spondyloarthritis: Data from DESIR cohort. RMD Open. 2017;3(2):1–8.
(17) Spadaro A, Iagnocco A, Perrotta FM, Modesti M, Scarno A, Valesini G. Clinical and ultrasonography assessment of peripheral enthesitis in ankylosing spondylitis. Rheumatology (Oxford). 2011; 50(11):2080–6.
(18) De Filippis LG, Caliri A, Lo Gullo R, Bartolone S, Miceli G, Cannavò SP, et al. Ultrasonography in the early diagnosis of psoriasis-asso- ciated enthesopathy. Int J Tissue React. 2005;27(4):159–62.
(19) Galluzzo E, Lischi DM, Taglione E, Lombardini F, Pasero G, Perri G, et al. Sonographic analysis of the ankle in patients with psoriatic arthritis. Scand J Rheumatol. 2000;29(1):52–5.
(20) Michelsen B, Diamantopoulos AP, Soldal DM, Hammer HB, Kavanaugh A, Haugeberg G. Achilles enthesitis defined by ultra- sound is not associated with clinical enthesitis in patients with psoriatic arthritis. RMD Open. 2017;3(2):1–5.
(21) Bandinelli F, Prignano F, Bonciani D, Bartoli F, Collaku L, Candelieri A, et al. Ultrasound detects occult entheseal involvement in early psoriatic arthritis independently of clinical features and psoriasis severity. Clin ExpRheumatol. 2013;31(2):0219–24.
(22) Hamdi W, Bouaziz Chelli M, Ghannouchi MM, Hawel M, Ladeb MF, Kchir MM. Performance of ultrasounds compared with radiographs to detect chronic enthesitis signs in patients with ankylosing spondylitis. Rheumatol Int. 2013;33(2):497–9.
(23) De Miguel E, Falcao S, Castillo C, Plasencia C, García M, Branco JC, et al. Enthesis erosion in spondyloarthritis is not a persistent structural lesion. Ann Rheum Dis. 2011;70(11):2008–10.
(24) Lanfranchi MA, Leluc O, Tavano A, Wormser C, Morange S, Chagnaud C, et al. Are ultrasound findings similar in patients with axial spondyloarthritis and in athlete entheses? J Rheumatol. 2017;44(5):609–12.
(25) Eder L, Jayakar J TA. Ultrasonographic entheseal abnormalities among patients with psoriatic arthritis, psoriasis alone and healthy individuals and their correlation with disease-related variables. Arthritis Rheum. 2012;64:S582.
(26) De Miguel E, Muñoz-Fernández S, Castillo C, Cobo-Ibáñez T, Martín-Mola E. Diagnostic accuracy of enthesis ultrasound in the diagnosis of early spondyloarthritis. Ann Rheum Dis. 2011;70(3):434–9.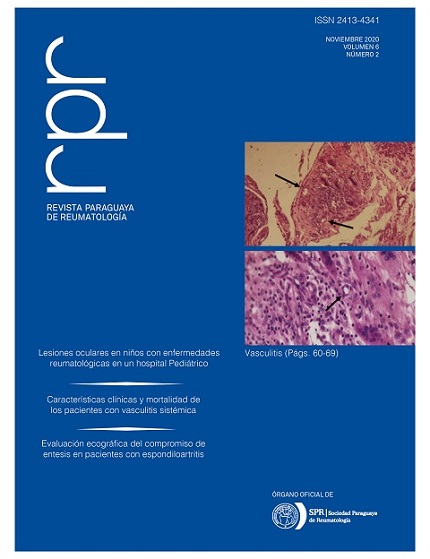 Cómo citar
1.
Ojeda A, Rojas E, Acosta R, Maidana M, Ramírez J, Duarte M. Evaluación ecográfica del compromiso de entesis en pacientes con espondiloartritis. Rev. parag. reumatol. [Internet]. 31 de octubre de 2020 [citado 20 de mayo de 2022];6(2):70-8. Disponible en: https://revista.spr.org.py/index.php/spr/article/view/127
Derechos de autor 2020 Revista Paraguaya de Reumatología
Esta obra está bajo licencia internacional
Creative Commons Reconocimiento 4.0
.