Características clínicas y mortalidad de los pacientes con vasculitis sistémica
Palabras clave:
vasculitis sistémica, vasculitis asociadas a ANCA, mortalidad
Resumen
Introducción: Las vasculitis sistémicas pertenecen a un grupo de enfermedades multisistémicas graves, raras, que sin tratamiento pueden poner en peligro la vida.
Objetivos: determinar las características clínicas y mortalidad de pacientes con vasculitis sistémica, internados en el periodo comprendido entre enero de 2000 y agosto de 2020, en dos hospitales públicos de Paraguay.
Material y Método: estudio observacional, descriptivo, retrospectivo, de corte transverso, con componente analítico, de 41 pacientes adultos, con el diagnóstico de vasculitis sistémica, internados en dos hospitales públicos de Paraguay. El diagnóstico se realizó por la clínica, laboratorio, imagen y hallazgos histológicos. Se establecieron los factores de riesgo para la mortalidad por la prueba de chi cuadrado, considerándose significativo un valor p menor de p<0,05. 
Resultados: Fueron estudiados 41 pacientes, 24 mujeres (58,54%) y 17 varones (41,46%), encontrando vasculitis asociadas a ANCA en 31 casos (77,5%), 17 con granulomatosis con poliangeitis y 14 pacientes con poliarteritis microscópica. Poliarteris nodosa 5 (12,5%), crioglubulinemia 2 (5%), enfermedad por anticuerpo anti membrana basal glomerular 2 (5%), arteritis de Takayasu 3 (7,32). Se encontró una mortalidad del 39%. Los factores relacionados con la mortalidad fueron: hemorragia alveolar, injuria renal aguda, nefritis rápidamente progresiva, infiltrado algodonoso bilateral (p=≤ 0,05).
Conclusión: La vasculitis más frecuente fue la asociada al ANCA, seguida por la parteritis nodosa. Encontramos una tasa elevada de mortalidad, secundaria sobre todo a afectación pulmonar y renal.
Descargas
La descarga de datos todavía no está disponible.
Citas
(1) Cervera-Castillo H, Blanco-Favela F, Silva-López YF, Paredez-Rivera GE, Torres-Caballero V. Vasculitis asociadas a ANCA en la zona metropolitana oriente de la Ciudad de México. Rev Med Inst Mex Seguro Soc. 2017;55(4):430-40.
(2) Iglesias-Gamarra A, Cantillo-Turbay JJ, Restrepo-Suárez JF. Análisis crítico de las clasificaciones de las vasculitis. Rev. Colomb. Reumatol. 2006;13(1):48-64.
(3) Jennette JC. Overview of the 2012 Revised International Chapel Hill Consensus Conference Nomenclature of Vasculitides. Clin Exp Nephrol. 2013;17(5):603–606. doi:10.1007/s10157-013-0869-6.
(4) Hunder GG, Arend WP, Bloch DA, Calabrese LH, Fauci AS, Fries JF, et al. The American College of Rheumatology 1990 criteria for the classification of vasculitis. Introduction. Arthritis Rheum. 1990 Aug;33(8):1065-7. doi: 10.1002/art.1780330802.
(5) Robson JC, Jayne D, Merkel PA, Dawson J. Systemic vasculitis and patient-reported outcomes: how the assessment of patient preferences and perspectives could improve outcomes. Patient Relat Outcome Meas. 2019;10:37-42.
(6) Li L, Neogi T, Jick S. A cohort study of comorbidity in patients with granulomatosis with polyangiitis. Rheumatology (Oxford). 2018; 57 (2): 291-299. https://doi.org/10.1093/rheumatology/kex379
(7) Luqmani R, Suppiah R, Edwards CJ, Phillip R, Maskell J, Culliford D, et al. Mortality in Wegener's granulomatosis: a bimodal pattern. Rheumatology (Oxford) 2011;50(4):697–702.
(8) Nazareth R, Mason JC. Takayasu arteritis: severe consequences of delayed diagnosis. QJM. 2011; 104(9):797–800.
(9) Guillevin L, Pagnoux C, Karras A, Khouatra C, Aumaitre O, Cohen P, et al. Rituximab versus azathioprine for maintenance in ANCA-associated vasculitis. N Engl J Med. 2014;371(19):1771–1780.
(10) Abularrage CJ, Slidell MB, Sidawy AN, Kreishman P, Amdur RL, Arora S. Quality of life of patients with Takayasu's arteritis. J Vasc Surg. 2008;47(1):131–6.
(11) Fredi M, Lazzaroni MG, Tani C, Ramoni V, Gerosa M, Inverardi F, et al. Systemic vasculitis and pregnancy: a multicenter study on maternal and neonatal outcome of 65 prospectively followed pregnancies. Autoimmun Rev. 2015;14(8):686–91.
(12) Herlyn K, Hellmich B, Seo P, Merkel PA. Patient-reported outcome assessment in vasculitis may provide important data and a unique perspective. Arthritis Care Res (Hoboken) 2010; 62(11):1639–1645.
(13) Seo P, Jayne D, Luqmani R, Merkel PA. Assessment of damage in vasculitis: expert ratings of damage. Rheumatology (Oxford) 2009;48(7):823–827.
(14) Sreih AG, Alibaz-Oner F, Easley E, Davis T, Mumcu G, Milman N, et al. Health-related outcomes of importance to patients with Takayasu's arteritis. Clin Exp Rheumatol. 2018;36 Suppl 111(2):51–57.
(15) Stone JH, Merkel PA, Spiera R, Seo P, Langford CA, Hoffman GS, et al. Rituximab versus cyclophosphamide for ANCA-associated vasculitis. N Engl J Med. 2010;363(3):221-32.
(16) Walsh M, Flossmann O, Berden A, Westman K, Hoglund P, Stegemn C, et al. European Vasculitis Study Group Risk factors for relapse of antineutrophil cytoplasmic antibody-associated vasculitis. Arthritis Rheum. 2012; 64(2):542–8.
(17) Demir S, Sönmez HE, Özen S. Vasculitis: Decade in Review. Curr Rheumatol Rev. 2019;15(1):14-22. doi: 10.2174/1573397114666180726093731. PMID: 30047330.
(18) Pugnet G, Pagnoux C, Terrier B, Perrodeau E, Puéchal X, Karras A, et al. Rituximab versus azathioprine for ANCA-associated vasculitis maintenance therapy: impact on global disability and health-related quality of life. Clin Exp Rheumatol. 2016;34(3 Suppl 97):S54–9.
(19) Hellmich B, Agueda A, Monti S, Buttgereit F, de Boysson H, Brouwer E, et al. 2018 Update of the EULAR recommendations for the management of large vessel vasculitis. Ann Rheum Dis. 2020 Jan;79(1):19-30.
(20) Sharma A, Sharma K. Hepatotropic viral infection associated systemic vasculitides-hepatitis B virus associated polyarteritis nodosa and hepatitis C virus associated cryoglobulinemic vasculitis. J Clin Exp Hepatol. 2013; 3(3):204-12.
(21) Desbois AC, Cacoub P, Saadoun D. Cryoglobulinemia: an update in 2019. Joint Bone Spine. 2019; 4 (19),297-319.
(22) Phelps RG, Turner AN. Anti-glomerular basement membrane disease and Goodpasture disease. In: Johnson RJ, Feehally J, Floege J, eds. Comprehensive Clinical Nephrology. Fifth ed. Philadelphia, PA: Elsevier Saunders; 2015: chap 24.
(23) Gulati K, McAdoo SP. Anti-Glomerular Basement Membrane Disease. Rheum Dis Clin North Am. 2018 Nov;44(4):651-673. doi: 10.1016/j.rdc.2018.06.01.
(24) Samson M, Puéchal X, Mouthon L, Devilliers H, Cohen P, Bienvenu B, et al. Microscopic polyangiitis and non-HBV polyarteritis nodosa with poor-prognosis factors: 10-year results of the prospective CHUSPAN trial. Clin Exp Rheumatol. Mar-Apr 2017;35 Suppl 103(1):176-184.
(25) Al Arfaj AS, Khalil N. ANCA associated vasculitis in patients from Saudi Arabia. Pak J Med Sci . 2018;34(1):88-93. doi: 10.12669 / pjms.341.13881.
(26) Alba MA, Jennette JC, Falk RJ. Pathogenesis of ANCA-Associated Pulmonary Vasculitis. Semin Respir Crit Care Med . 2018;39(4):413-424.
(27) Bajema IM, Bruijn JA, Casian A, Cid MC, Csernok E, Van Daalen E, et al. The European Vasculitis Society 2016 Meeting Report. Kidney Int Rep. 2017;2:1018–31.
(28) Casal A, Díaz-Garel J, Pereiro T, Toubes ME, Ricoy J, Valdés L. Pulmonary vasculitis. J Thorac Dis. 2018;10(9):5560-75.
(29) Silva-Fernández L, Loza E, Martínez-Taboada VM, Blanco R, Rúa-Figueroa I, Pego-Reigosa JM, et al. Biological therapy for systemic vasculitis: a systematic review. Semin Arthritis Rheum. 2014 Feb;43(4):542-57.
(30) Jennette JC, Nachman PH. ANCA Glomerulonephritis and Vasculitis. Clin J Am Soc Nephrol . 2017; 12 (10): 1680-91.
(31) Walsh M, Merkel PA, Peh CA, Szpirt WM, Puéchal X, Fujimoto S, et al. Plasma Exchange and Glucocorticoids in Severe ANCA-Associated Vasculitis. N Engl J Med 2020; 382(7):622-631.
(32) Monti S, Bond M, Felicetti M, Cavallaro E, Posarelli C, Elefante E, et al. One year in review 2019: vasculitis. Clin Exp Rheumatol. 2019;37 Suppl 117(2):3-19.
(33) Dillon MJ, Eleftheriou D, Brogan PA. Medium-size-vessel vasculitis. Pediatr Nephrol . 2010;25(9):1641-1652.
(34) Puerta Franchi R, Olguin M, Gavazzi R. Panarteritis nodosa cutánea, presentación de un caso con lesiones en localización atípica. Rev Arg Reumatol. 2017;28(2):36-37.
(35) Bougea A, Anagnostou E, Spandideas N, Triantafyllou N, Kararizou E. An update of neurological manifestations of vasculitides and connective tissue diseases: a literature review / Atualização das manifestações neurológicas das vasculitides e das doenças do tecido conjuntivo: revisão de literatura. Einstein (São Paulo). 2015;13(4):627-635.
(36) Younger DS, Carlson A. Dermatologic Aspects of Systemic Vasculitis. Neurol Clin. 2019 May;37(2):465-473.
(37) Chen YP, Cheng H, Rui HL, Dong HR. Cryoglobulinemic vasculitis and glomerulonephritis: concerns in clinical practice. Chin Med J (Engl). 2019; 132(14):1723-1732.
(38) Groves C, Devereux C, McMillan C. A Case of Cutaneous Vasculitis with Underlying Hepatitis C and Cryoglobulinaemia. Ulster Med J . 2008 Jan;77(1):51–53.
(39) McAdoo SP, Pusey CD. Anti-Glomerular Basement Membrane Disease. Clin J Am Soc Nephrol . 2017;12(7):1162-1172.
(40) Kimmoun A, Baux E, Das V, Terzi N, Talec P, Asfar P, et al. Outcomes of patients admitted to intensive care units for acute manifestation of small-vessel vasculitis: a multicenter, retrospective study. Crit Care. 2016;20:27. Published 2016 Jan 26. doi:10.1186/s13054-016-1189-5.
(41) Panupattanapong S, Stwalley DL, White AJ, Olsen MA, French AR, Hartman ME, et al. Epidemiology and Outcomes of Granulomatosis With Polyangiitis in Pediatric and Working-Age Adult Populations In the United States: Analysis of a Large National Claims Database. Artritis reumatol. 2018; 70 (12): 2067-2076. doi: 10.1002 / art.40577.
(42) McGregor JG, Negrete-Lopez R, Poulton CJ, Kidd JM, Katsanos SL, Goetz L, et al. Adverse events and infectious burden, microbes and temporal outline from immunosuppressive therapy in antineutrophil cytoplasmic antibody-associated vasculitis with native renal function. Nephrol Dial Transplant. 2015 Apr;30(Suppl 1):i171-81.
(43) Titeca-Beauport D, Francois A, Lobbedez T, Guerrot D, Launay D, VrigneaudL, et al. Early predictors of one-year mortality in patients over 65 presenting with ANCA-associated renal vasculitis: a retrospective, multicentre study. BMC Nephrol. 2018 Nov 9;19:317. doi: 10.1186/s12882-018-1102-3.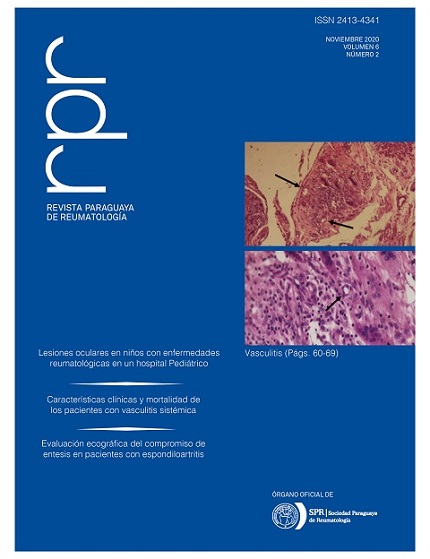 Cómo citar
1.
Montiel D, Sobarzo P, Centurión C, Montiel C, Torres R. Características clínicas y mortalidad de los pacientes con vasculitis sistémica. Rev. parag. reumatol. [Internet]. 30 de octubre de 2020 [citado 20 de mayo de 2022];6(2):60-9. Disponible en: https://revista.spr.org.py/index.php/spr/article/view/126
Derechos de autor 2020 Revista Paraguaya de Reumatología
Esta obra está bajo licencia internacional
Creative Commons Reconocimiento 4.0
.