SARS-Cov 2, un virus para reumatólogos
Descargas
La descarga de datos todavía no está disponible.
Citas
(1) Cohen J. From mice to monkeys, animals studied for coronavirus answers. Science (80-) [Internet]. 2020 Apr 17;368(6488):221 LP-222. Available from: http://science.sciencemag.org/content/368/6488/221.abstract
(2) Morris SB, Schwartz NG, Patel P, Abbo L, Beauchamps L, Balan S, et al. Case Series of Multisystem Inflammatory Syndrome in Adults Associated with SARS-CoV-2 Infection - United Kingdom and United States, March-August 2020. MMWR Morb Mortal Wkly Rep. 2020 Oct;69(40):1450–6.
(3) Zhang Q, Bastard P, Liu Z, Le Pen J, Moncada-Velez M, Chen J, et al. Inborn errors of type I IFN immunity in patients with life-threatening COVID-19. Science (80- ) [Internet]. 2020 Oct 23;370(6515):eabd4570. Available from: http://science.sciencemag.org/content/370/6515/eabd4570.abstract
(4) Cajamarca-Baron J, Guavita-Navarro D, Buitrago-Bohorquez J, Gallego-Cardona L, Navas A, Cubides H, et al. SARS-CoV-2 (COVID-19) in Patients with some Degree of Immunosuppression. Reumatología Clinica 2020 Oct 16. doi: 10.1016/j.reumae.2020.08.001
(5) Michaud K, Wipfler K, Shaw Y, Simon TA, Cornish A, England BR, et al. Experiences of Patients With Rheumatic Diseases in the United States During Early Days of the COVID-19 Pandemic. ACR open Rheumatol. 2020 Jun;2(6):335–43.
(6) Romão VC, Cordeiro I, Macieira C, Oliveira-Ramos F, Romeu JC, Rosa CM, et al. Rheumatology practice amidst the COVID-19 pandemic: a pragmatic view. RMD open. 2020 Jun;6(2).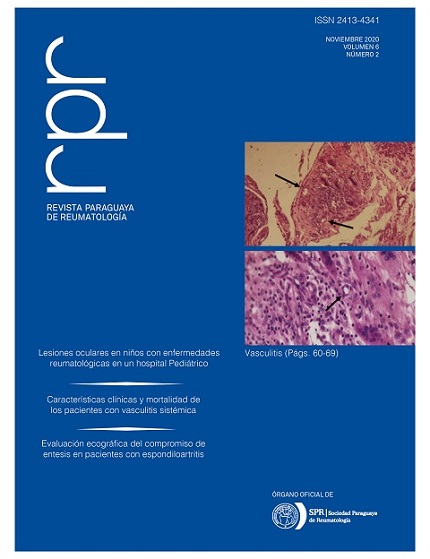 Cómo citar
1.
Sequera G. SARS-Cov 2, un virus para reumatólogos. Rev. parag. reumatol. [Internet]. 30 de octubre de 2020 [citado 20 de mayo de 2022];6(2):48-9. Disponible en: https://revista.spr.org.py/index.php/spr/article/view/124
Derechos de autor 2020 Revista Paraguaya de Reumatología
Esta obra está bajo licencia internacional
Creative Commons Reconocimiento 4.0
.