Impacto Femoroacetabular
Miguel Arza Fernández

Universidad Nacional de Asunción, Facultad de Ciencias Médicas, Hospital de Clínicas, Cátedra y Servicio de Ortopedia y Traumatología. San Lorenzo, Paraguay

Akira Kikuchi Hisaoka

Universidad Nacional de Asunción, Facultad de Ciencias Médicas, Hospital de Clínicas, Cátedra y Servicio de Ortopedia y Traumatología. San Lorenzo, Paraguay

Jaime Ibarrola

Universidad Nacional de Asunción, Facultad de Ciencias Médicas, Hospital de Clínicas, Cátedra y Servicio de Ortopedia y Traumatología. San Lorenzo, Paraguay
Palabras clave:
Choque femoroacetabular, osteoartrosis, coxalgia
Resumen
El choque femoroacetabular (CFA), también conocido como atrapamiento femoroacetabular, o impingement femoroacetabular es un síndrome clínico-radiológico que se caracteriza por presentar un conflicto de espacio en la transición entre la cabeza y el cuello femoral, con el reborde acetabular anterior. Es una causa a tener en cuenta en el diagnóstico diferencial de la coxalgia, especialmente en la población joven y laboralmente activa. Esto resalta la importancia sobre el conocimiento de esta patología, ya que su diagnóstico temprano permitirá la realización de un tratamiento correcto y oportuno, permitiendo de esta forma el regreso a las actividades laborales y deportivas de los pacientes. Hasta el momento es una entidad poco conocida entre las diferentes especialidades médicas, por lo que el objetivo de la presente revisión es aportar datos relacionados al diagnóstico, tratamiento y pronóstico de esta patología.
Descargas
La descarga de datos todavía no está disponible.
Citas
(1) Lavigne M, Parvizi J, Beck M, Siebenrock KA, Ganz R, Leunig M. Anterior femoroacetabular impingement: part I. Techniques of joint preserving surgery. Clin Orthop Relat Res. 2004(418):61-6.
(2) Leunig M, Casillas MM, Hamlet M, Hersche O, Notzli H, Slongo T , et al. Slipped capital femoral epiphysis: early mechanical damage to the acetabular cartilage by a prominent femoral metaphysis. Acta Orthop Scand. 2000;71(4):370-5.
(3) T reviño-Garza Ó, Rivas-Fernández M, Marín-Peña O, Esteban-Ledezma R, Vilarubias-Guillament JM. Tratamiento del pinzamiento femoro-acetabular mediante abordaje mínimo invasivo. R esultados con 2 años de seguimiento. Acta Ortopédica Mexicana. 2009;23(2):57-69.
(4) Pun S, Kumar D, Lane NE. Review: Femoroace tabular Impingement. Arthritis & Rheumatology. 2015;67(1):17-27.
(5) Ganz R, Parvizi J, Beck M, Leunig M, Notzli H, Siebenrock KA. Femoroacetabular impingement: a cause for osteoarthritis of the hip. Clin Orthop Relat Res. 2003(417):112-20.
(6) I to K, Minka MA, 2nd, Leunig M, Werlen S, Ganz R. Femoroacetabular impingement and the cam-effect. A MRI -based quantitative anatomical study of the femoral head-neck offset. J Bone Joint Surg Br. 2001;83(2):171-6.
(7) Notzli HP, Wyss TF, Stoecklin CH, Schmid MR, Treiber K, Hodler J. The contour of the femoral head-neck junction as a predictor for the risk of anterior impingement. J Bone Joint Surg Br. 2002;84(4):556-60.
(8) Ng VY, Ellis TJ. More than just a bump: cam-type femoroacetabular impingement and the evolution of the femoral neck. Hip Int. 2011;21(1):1-8.
(9) McCarthy JC, Noble PC, Schuck MR, Wright J, Lee J. The Otto E . Aufranc Award: The role of labral lesions to development of early degenerative hip disease. Clin Orthop Relat Res. 2001(393):25-37.
(10) Hofmann S, Tschauner C, Graf R. Mechanical causes of osteoarthritis in young adults. Hip Int. 2003;13(1):3-9.
(11) Parvizi J, Leunig M, Ganz R. Femoroacetabular impingement. J Am Acad Orthop Surg. 2007;15(9):561-70.
(12) Hack K, Di Primio G, Rakhra K, Beaule PE. Prevalence of camtype femoroacetabular impingement morphology in asymptomatic volunteers. J Bone Joint Surg Am. 2010;92(14):2436-44.
(13) Gosvig KK, Jacobsen S, Sonne-Holm S, Palm H, Troelsen A. Prevalence of malformations of the hip joint and their relationship to sex, groin pain, and risk of osteoarthritis: a population-based survey. J Bone Joint Surg Am. 2010;92(5):1162-9.
(14) C lohisy JC, Baca G, Beaule PE, Kim YJ, Larson CM, Millis MB, et al. Descriptive epidemiology of femoroacetabular impingement: a North American cohort of patients undergoing surgery. Am J Sports Med. 2013;41(6):1348-56.
(15) Domayer SE, Ziebarth K, Chan J, Bixby S, Mamisch TC , Kim YJ. Femoroacetabular cam-type impingement: diagnostic sensitivity and specificity of radiographic views compared to radial MRI. Eur J Radiol. 2011;80(3):805-10.
(16) Meyer DC, Beck M, Ellis T, Ganz R, Leunig M. Comparison of six radiographic projections to assess femoral head/neck asphericity. C lin Orthop Relat Res. 2006;445:181-5.
(17) Nepple JJ, Martel JM, Kim YJ, Zaltz I, Clohisy JC. Do plain radiographs correlate with CT for imaging of cam-type femoroacetabular impingement? Clin Orthop Relat Res. 2012;470(12):3313-20.
(18) Ganz R, Gill TJ, Gautier E, Ganz K, Krugel N, Berlemann U. Surgical dislocation of the adult hip a technique with full access to the femoral head and acetabulum without the risk of avascular necrosis. J Bone Joint Surg Br. 2001;83(8):1119-24.
(19) R ibas M, Vilarrubias J, Ginebreda I, Silberberg J, Leal J. Atrapamiento o choque femoroacetabular. Revista de ortopedia y traumatología. 2005;49(5):390-403.
(20) R ibas M, Marín-Peña O, Regenbrecht B, De la Torre B, Vilarrubias J. Femoroacetabular osteochondroplasty by means of an anterior minimally invasive approach. Hip International. 2007;2:91-8.
(21) Philippon MJ, Stubbs AJ, Schenker ML, Maxwell RB, Ganz R , Leunig M. Arthroscopic management of femoroacetabular impingement: osteoplasty technique and literature review.Am J Sports Med.2007;35(9):1571-80.
(22) Philippon MJ, Schenker ML. Arthr scopy for the treatment of femoroacetabular impingement in the athlete. Clin Sports Med. 2006;25(2):299-308, ix.
(23) Sampson TG. Arthroscopic treatment of femoroacetabular impingement: a proposed technique with clinical experience. I nstr Course Lect. 2006;55:337-46.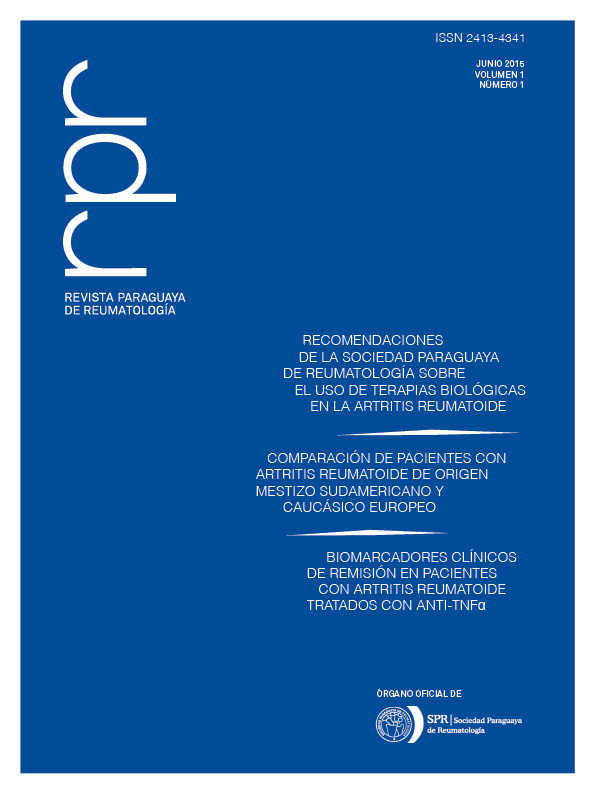 Cómo citar
1.
Arza Fernández M, Kikuchi Hisaoka A, Ibarrola J. Impacto Femoroacetabular. Rev. parag. reumatol. [Internet]. 29 de julio de 2015 [citado 17 de octubre de 2021];1(1):37-1. Disponible en: https://revista.spr.org.py/index.php/spr/article/view/11
Derechos de autor 2015 Revista Paraguaya de Reumatología
Esta obra está bajo licencia internacional
Creative Commons Reconocimiento 4.0
.